Sponsorship Opportunities
Baby2Baby works with a variety of corporate sponsors in a multitude of ways including event sponsorships, monetary & in-kind donations and innovative social media campaigns. Please contact Danielle Cardelfe, Senior Manager, Corporate Partnerships.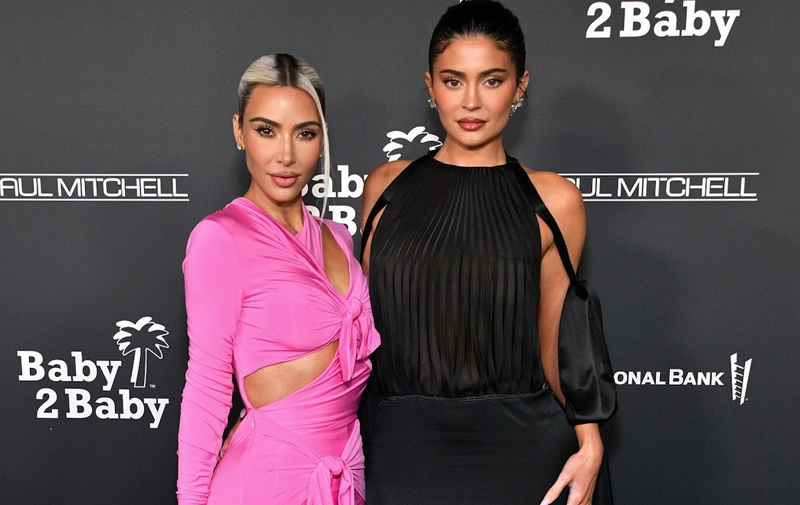 The Baby2Baby Gala raises millions of dollars for Baby2Baby and the children living in poverty we serve, bringing together celebrities, entrepreneurs and philanthropists in support of our work. The evening hosts the top chefs in Los Angeles, an exclusive auction and an inspiring program, all while honoring a celebrity mother who embodies the Baby2Baby mission with the Giving Tree Award. The Baby2Baby Gala is underwritten entirely by generous sponsors, ensuring that every dollar raised at the event directly benefits Baby2Baby.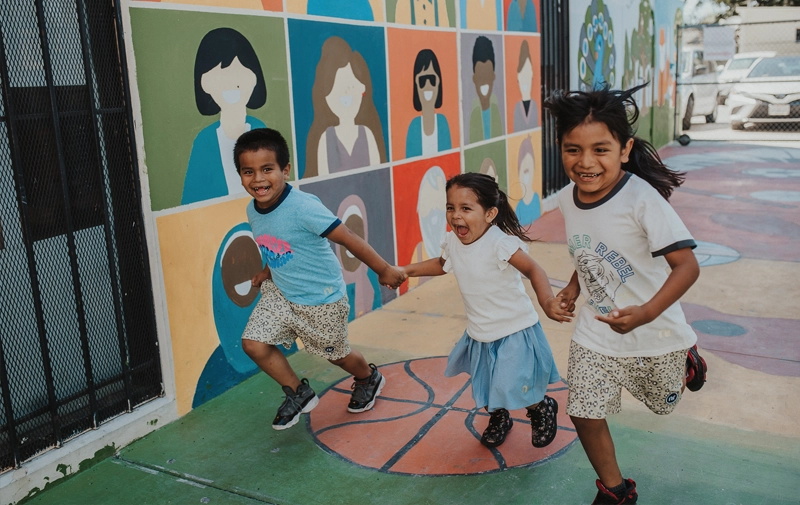 Sponsors can make a financial donation to support a specific area of Baby2Baby's programming (e.g. Disaster Relief, Underserved Schools, Foster Care, Hospitals & Clinics, etc) or make an unrestricted donation toward our work providing critical items to children living in poverty in honor of a holiday or company initiative. Baby2Baby is able to stretch our sponsors' dollars to maximize the number of children reached.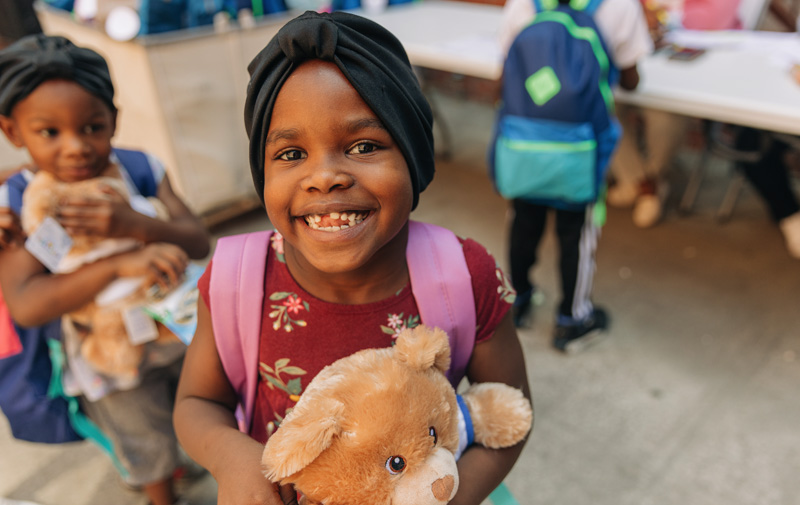 With millions of requests for basic essentials including diapers, clothing, backpacks, cribs, shoes, soap, shampoo, and more, Baby2Baby relies on the support of our corporate sponsors to stock our warehouse with high-need items, which are then distributed to the children Baby2Baby serves across the country. We are able to accept product donations of any size including excess inventory and off-season styles.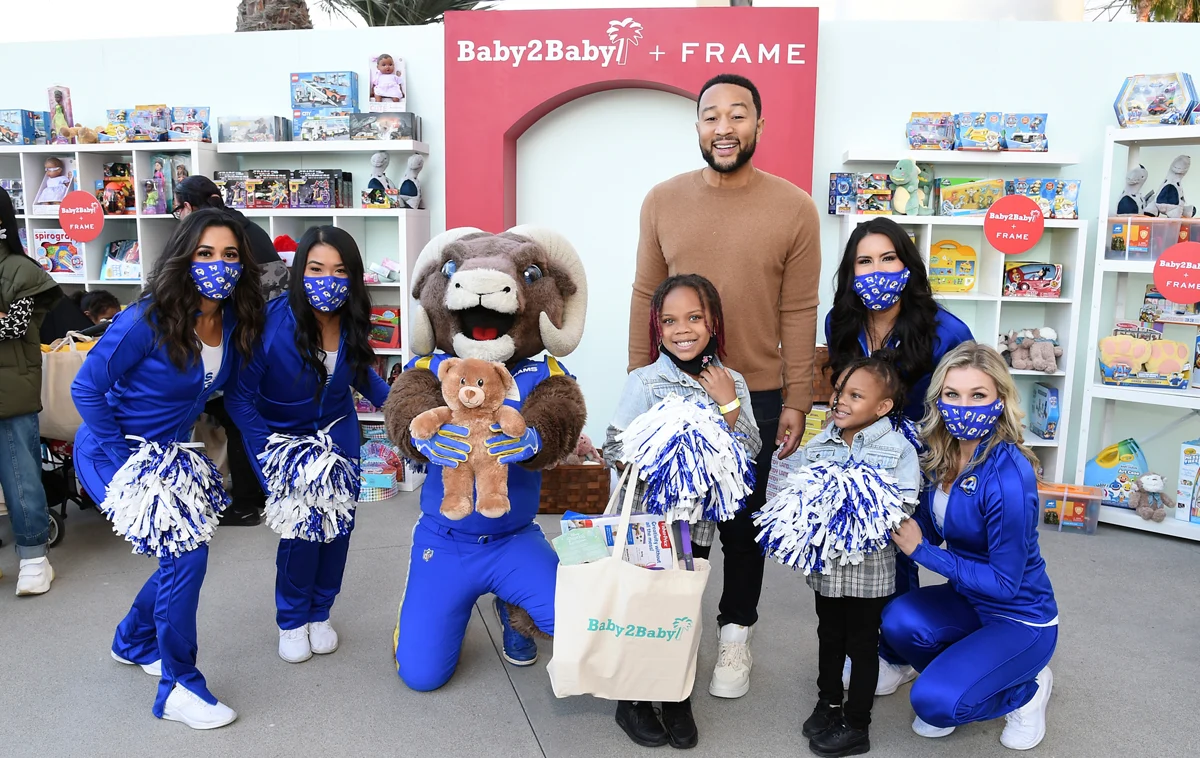 Baby2Baby hosts distribution events throughout the year to provide basic essentials directly to children and families. Presenting and co-presenting sponsorship opportunities are available for Mother's Day, Back to School, Holiday and more! Sponsorship opportunities include press, social media, and photo opportunities with Baby2Baby celebrity ambassadors.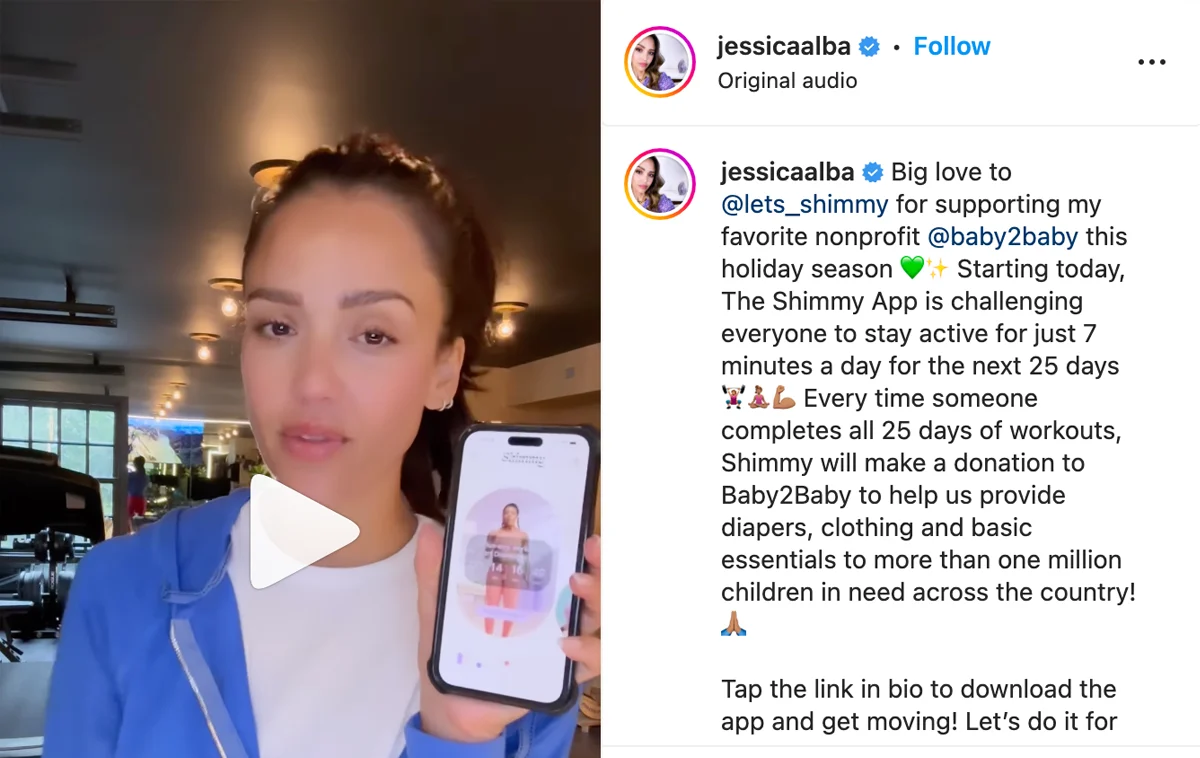 By harnessing the power of Baby2Baby's celebrity supporters and influencers, Baby2Baby can spotlight a sponsor's donation to the organization in many forms. From viral social media challenges to swipe up stories encouraging app downloads to feed posts highlighting generous donations, a sponsor's commitment to Baby2Baby can be shared across multiple social platforms and illustrate how it impacts the children we serve.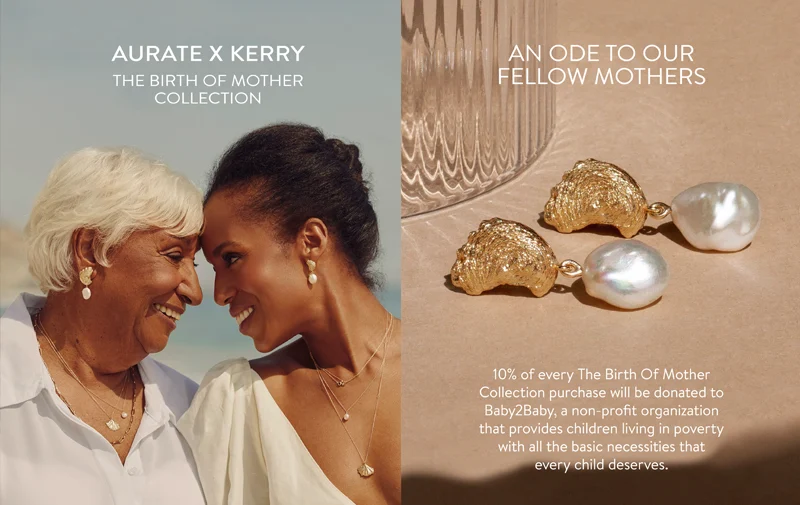 Baby2Baby works with brand partners on developing collaborations that raise vital funds for the organization while building brand awareness for our sponsors. From co-designed items with a percentage of sales donated to Baby2Baby to celebrity-curated collections, Baby2Baby can create custom partnership proposals that meet a brand's charitable and marketing goals.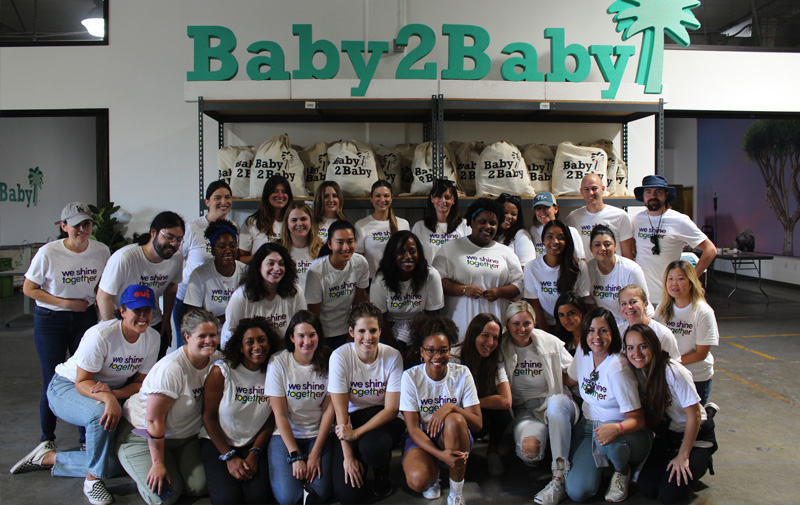 Baby2Baby hosts corporate groups for volunteer sessions daily. Volunteer days are a great way to develop camaraderie amongst your team and experience Baby2Baby's mission first hand. We can develop recurring monthly sessions as well as company-wide service days for 100+ people at our headquarters or at your office.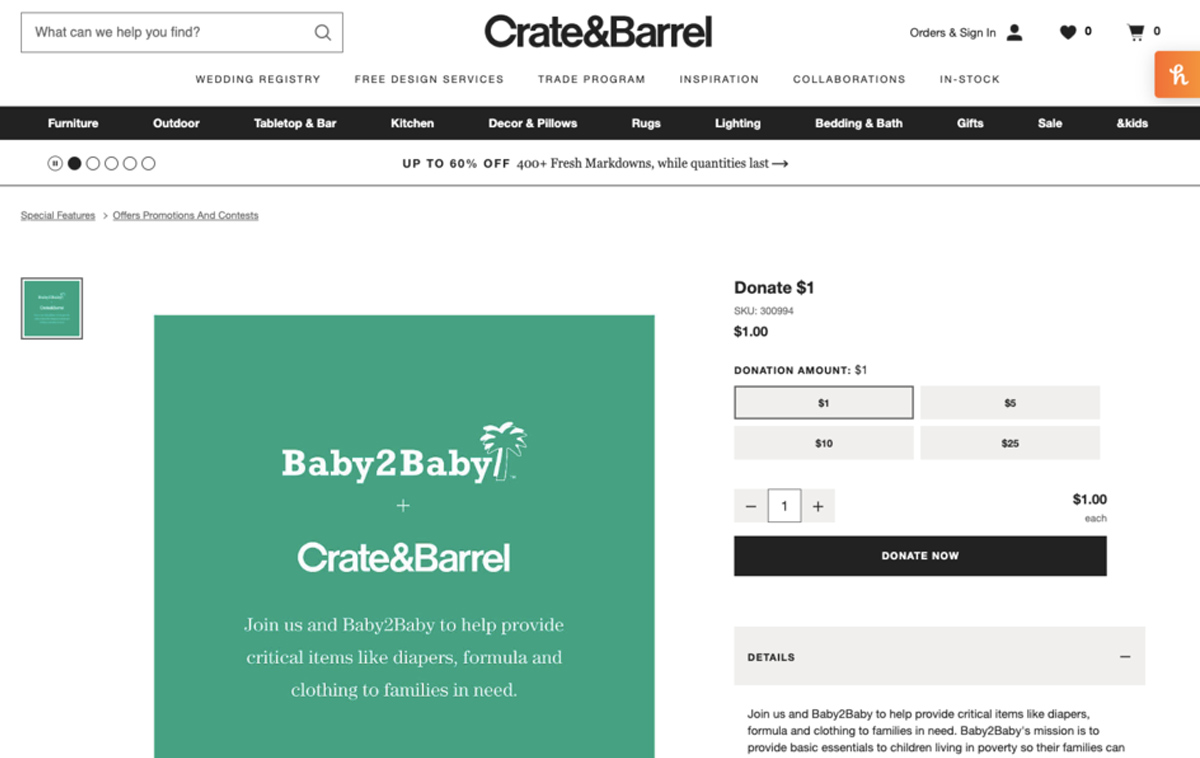 Corporate partners can support Baby2Baby through round-up and donate campaigns both in-store and online. These campaigns allow customers and donors to make a direct impact on the children Baby2Baby serves. Round-up initiatives can be year-round or focus on a specific initiative (e.g. Mother's Day, Back to School, Holiday, etc.).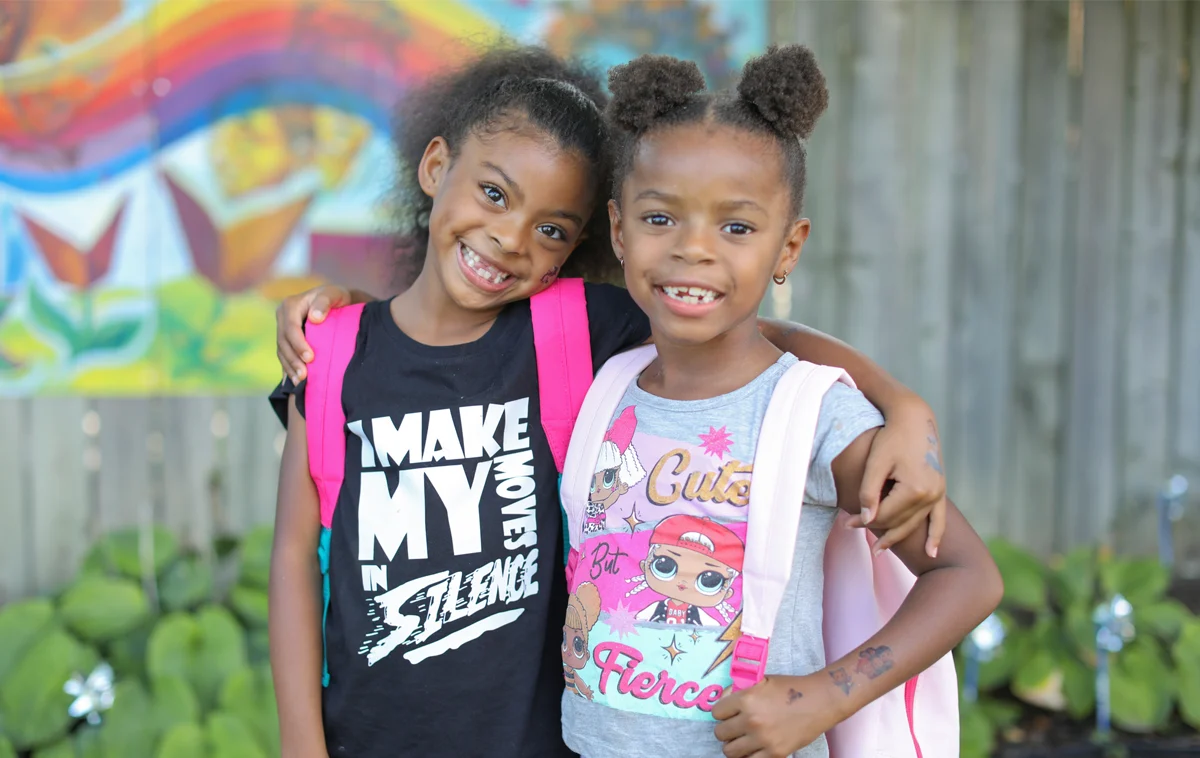 Baby2Baby partners with brands on One for One campaigns to provide high-need items to the children served by the organization.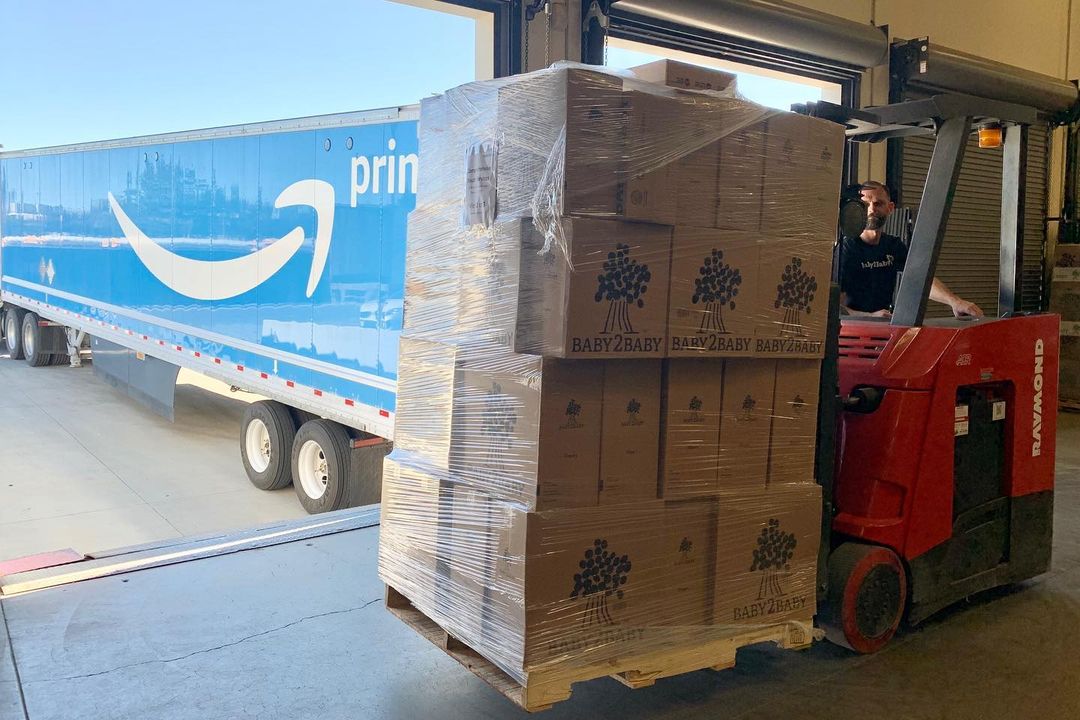 Sponsorship Spotlight
Amazon has been an incredible partner to Baby2Baby, from donating the shipping of critical items for children living in poverty across the country to helping us provide one million diapers to families in need across California to supporting our Disaster Relief & Emergency Response Program during the national formula shortage. Thank you for your ongoing commitment!